MANAGEMENT COMMITTEE
Bayside Divas Inc.
BAYSIDE DIVAS
MANAGEMENT COMMITTEE
Bayside Divas is a community-based, not-for-profit incorporated association. It is governed by a five-person executive management committee, the members of which are elected, on an annual basis, from within the general membership.
ELEANOR WAY
Secretary
Eleanor has been with the Bayside Divas since 2011. For her, singing has always been a passion, seizing opportunities to sing with others whenever they come along. These have included participating in many Tony Backhouse workshops; joining a choir with Ron Kenoly; and song leading at church. She toured with the Divas to Melbourne in 2015 and to Tasmania to the Festival of Voices in 2018.
After spending many years as a pattern maker in the fashion industry, Eleanor is currently working as a seamstress for a local bridal shop. It is no surprise then that her Diva name is Dress Detective Diva (aka fashion police), a reflection of her role as one of two costume coordinators. Eleanor has also enjoyed years of working as a carer in aged care in the community.
Aged 52, with two teenage children and all her own teeth, her hobbies include gardening and photography. She is often seen zipping around taking photos of the Divas at their many events and the social activities that they enjoy together.
Eleanor is very grateful for the sense of community and support within the group of friends that is the Divas.
SUZAN PEKOL
Coordinator
Suzan has been a long-time member of the Bayside Divas since joining in 2006. Her years with the choir have included a two-year stint as Co-ordinator, and regular participation in many Diva concerts and community events.
Originally a journalist with The Courier-Mail, Suzan now works in property management. But she has always enjoyed being part of the vibrant Brisbane music scene – from school choirs, to solo performing and regular gigs with her band, Freedom.
Suzan believes that her long-term commitment to the Divas flows from the great musical opportunities that the choir provides, as well as from the wonderful friendships she has found within the Bayside Diva 'sisterhood'.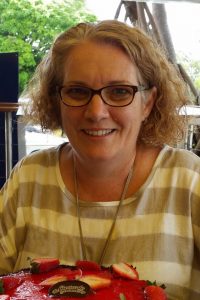 MEGAN WINCH
Treasurer
Megan came to choral music at a very early age. Her mother used to take her along to church choir rehearsals every week and to their many performances. This meant sometimes joining the choir, on stage, in a bassinet! Megan is sure that this is where her passion for music started. At school she was part of both small and large choral ensembles and she participated in all the school musicals. Megan also learnt to play the violin and studied piano as well.
Megan is a relatively new addition to the Bayside Divas, joining the choir as recently as late 2019. Having not sung with a choir since attending school she was a little bit rusty. But, with a lot of hard work and dedicated practice she was ready to join the Divas for their Christmas performances that same year.
Megan currently works full-time as a Production Manager and Admin. Officer for a food allergen company. She has really enjoyed rediscovering music and how it feels singing with other people that share a common passion.
Megan says, "I think Plato said it best 'Music gives a soul to the universe, wings to the mind, flight to the imagination, and life to everything'."
BRIDIE SCHULTZ
Assistant Coordinator
When she joined the choir in 2018, Bridie became the youngest member of the Bayside Divas. Having grown up in the local area, she had often attended the Bayside Divas' concerts. Here she was drawn to the beautiful sound the choir made, the repertoire they performed and the talent and professionalism of Musical Director Sandra Milliken. But most of all she relished the joy that the Divas brought to others and to themselves through their singing and performance. So, she decided that 25 was 'old enough' to finally become a Diva herself!
Bridie's love of music started as a young child and flourished once she got to school. Here she joined the school choir and started piano lessons and exams. She has been a member of choirs ever since and has found ways to use her music in other aspects of life. She started a band and an a cappella group with friends, volunteered to play music at a local brain injury facility, sang in local musicals and even found a choir to join at work. Bridie loves the performance aspect of being a Diva and this shines through her face when she shares her music with others.
Bridie is grateful to have made many friends in the choir and admires the way the Divas support one another and create such a sense of community. She hopes to bring some of her technology 'expertise' to the Assistant Coordinator role.
JILL WOOD
Assistant Coordinator
Jill is a founding member of the choir and a proud Long Standing Diva (LSD). Since childhood, singing has been an important part of her life. Belonging to, and performing with, the Bayside Divas has been a highlight and joy in her life since 2003. Prior to joining the choir Jill had performed as a member of the Barclays Operatic Society in London.
She brings to the Executive Committee a breadth of experience regarding the operation of Diva affairs and a strong passion to uphold their motto "In voice, we rejoice". She has the pleasure and fun of carrying out the duties of Social and Birthdays Coordinator and it is no surprise to anyone who knows her that her "D" name is Dining-Out Diva!
Now retired from an extensive management career in finance, international banking and accounting, Jill's passions include reading, travelling as much as possible and enjoying the fruits of labour from her husband's cooking.
Music Librarian
Helen Gilmore
Concert Coordinator
Christine Reed
Costume Coordinators
Eleanor Way
Wendy Lavender
Grants Coordinator
Marisa St-Onge
Social Media Coordinators
Bridie Schultz
Sandra Milliken
Section Leaders
Eunice Rienecker
Helen Trappett
Eleanor Way
Jill Wood
Choreographer
Ruth Gabriel
Dance Captains
Eleanor Way
Helen Gilmore
LIKE TO JOIN THE DIVAS? Click the button for all the details.