JOIN US
Membership of the Bayside Divas
Bayside Divas is always looking for interested singers to join our wonderful group.
NEW MEMBERS EVENINGS
Each term the Divas conduct a special evening program for potential new members. These evenings are called Open Rehearsal Nights and are usually held on the first or second choir practice each term. It is a great opportunity to meet current members and the Music Director; gain an insight into the rehearsal process; and to experience a selection of the repertoire.
VOICE PLACEMENT
Successful applicants will be required undertake a voice placement session with our Music Director. This placement is conducted in a friendly and supportive manner to enable the Music Director to determine the best vocal placement for each new Diva in the choir.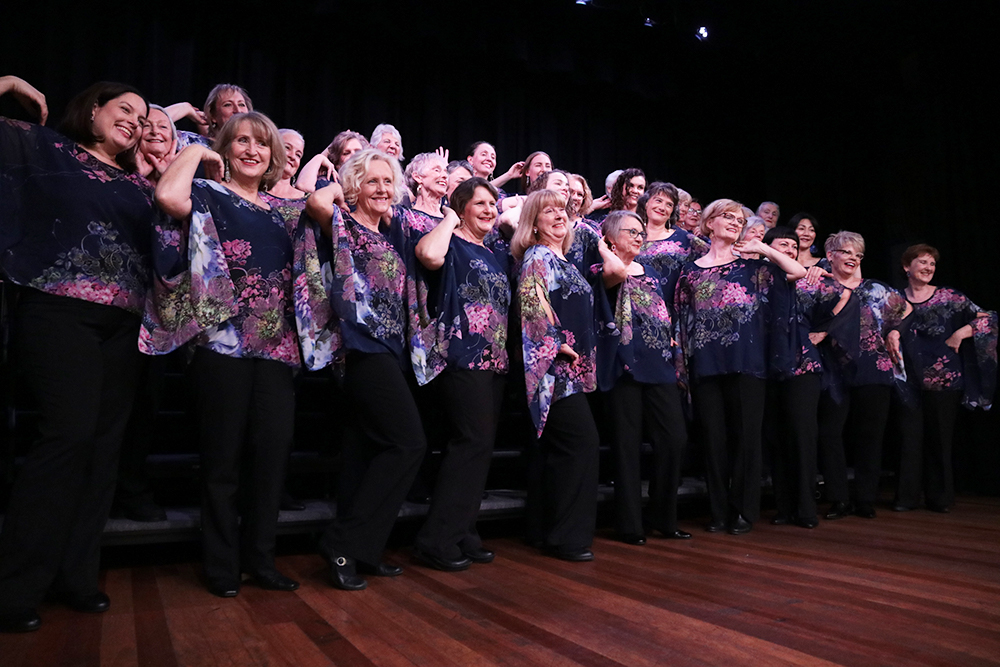 MEMBERSHIP APPLICATIONS
Applications/Expressions of Interest are welcome at any time.
To register your interest in joining the Divas, please contact us via phone or email. Alternatively, you may download an Application Form, complete all the required details and return it via post or email.
REHEARSALS
The Bayside Divas rehearse weekly during State school terms on Wednesday evenings from 7:00pm to 9:00pm at the Sandgate and District Senior Citizens Centre, 20 Seymour Street, Sandgate 4017.
A location map is available on the Contact Us page.
MEMBERSHIP FEES
The membership fee is $110 per term, with a discount of $10 if paid by the first week of term. Fees may be paid by direct deposit (preferred) or cash/cheque.
Membership fees cover the costs associated with purchase of sheet music; professional fees for the Music Director, choreographers and musicians; and rehearsal CDs that are designed to assist members with learning new repertoire.
MUSIC FOLDER LEVY
A one-off music folder levy of $40 is payable on joining the choir, prior to the issue of the folder and music. The levy is refundable in full on resignation from the choir (not if only taking leave); provided that all sheet music has been returned in good condition.
PERFORMANCE UNIFORMS
All Divas are required to supply their own basic performance uniform that includes:
Plain black trousers
Closed-in black shoes
Plain black three-quarter sleeve top (to be purchased directly from Bayside Divas).
The Divas maintain a collection of additional items that are loaned to members for use in performances. There may also be a requirement for members to purchase additional costume pieces, as required.
LEAVE
Members of the choir may take leave from time to time on a term by term basis. Divas taking leave are requested to contact the Coordinator prior to the beginning of each new term to advise whether or not the leave is to be extended. Divas absent for an extended period of time may be asked to undertake a new voice placement prior to returning.